After many years on stage and just one year after the release of the cover-album "True Illusions" from the Tanny Mas Band, comes the new solo album Tanny Mas called "Thank You".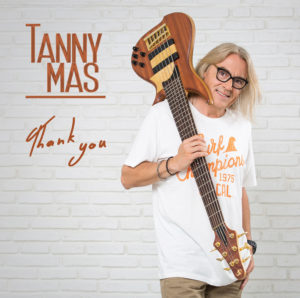 This convincing album combines a modern mixture of funk, pop and rock and was again produced in the prestigious studios of Team 33 Music at Palma De Mallorca by Luis Rodriguez and his co-producer Philippe Escano.
Tanny Mas stands out with his unique and rough voice. He gives every song a perfect mixture of coolness and warmth. Alongside the danceable tracks, Tanny Mas also shows his senvitie side with the rock-ballad "Dame La Luna" – the first single from the album. With "We Are Just Dancers" he presents himself as an exemplary funk artist. All tracks on the album were recorded using live musicans.
With his latest album "Thank You" Tanny, who's first album release was in 1998, wants to build on the success of the previous years which peaked with a tour of Germany and almost 50 concerts, all made possible with thanks to the support of his friends end mentor Thomas Limberg.
Extended your real music and dance experiences with the album "Thank You" from Tanny Mas!
Pre-listen on Spotify
Follow Tanny Mas on Facebook | Twitter